LED Mobile Bar Hire
Now more affordable than ever before is the 4m round LED illuminated cocktail bar which can be assembled in less than 30 minutes (our record is 10 minutes flat).
The colour changing circular bar is easily controlled with a simple handheld controller and can be DMX'd if required 
The LED bar is packed away into 3 smart flight cases to make set-up and dismantling quick and easy. 
We also offer straight bar sections at 1.5m which are compatible with the curved bar sections to achieve various configurations to meet your requirements. 
The bar counters can also be used as exhibition stands, DJ booths and promotional counters to name just a few applications.
We can also supply a fully Animated Bar which can be customised for your event. Run logos, animations and scrolling text across the fron for the bar. (available in curved or circular formats.

Cocktail Bartender Hire
Not only can we supply a fully functional cocktail bar, but we can also supply you with your very own cocktail waiters.
We can supply you with a fully stocked bar with a comprehensive cocktail list to ensure your event is fully catered for.
We can supply cocktail making classes and cocktail making team building sessions to encourage team work whilst having fun in the process.
All of our fully staffed cocktail packages are bespoke, so please do get in touch and we would be delighted to build you a package that exceeds your expectations.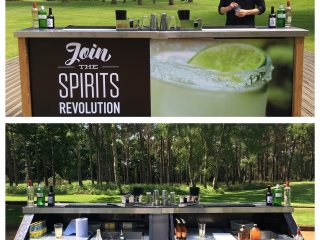 Illuminated Function Bar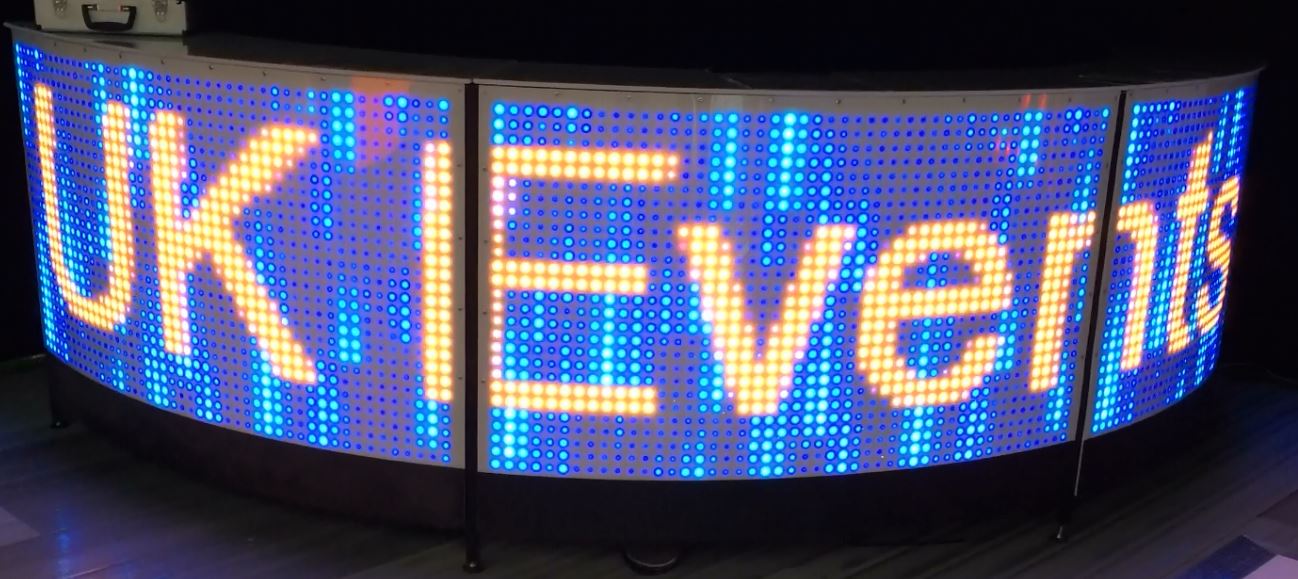 Our Lit fully circular cocktail bars are 4m in size. 
Each section interlocks into the next for a sturdy build. the bar is built up with 8 segments. (1 section is the hinged door). 
Each bars power and signal control is daisy chained the serving side of the bar so no cables are seen by the general public. 
If ordering a full sized round bar we will supply an access section which opens out for bar staff to access the bar. When the door closes you could never tell that section was an access point. The top of the access point can be used in the same way as the rest of the bar top. 
For more technical requirements please get in contact. 
Our colour changing bars consumes very little power for such a high impact bar. Order fewer sections of the bar if you don't require a full circle. 
We can offer stylish Bar Stools to hire along-side your LED Bar along with LED uplighters and LED furniture to add to that WOW factor.

Video Of Our Animated Mobile Bar
We can now put together tailored packages to include bar staff, a fully stocked bar and cocktail waiters - Make the most of your vibrant LED cocktail bar.
MIRRORED BAR
We are now proud to supply mirrored bar sections for hire. You can choice from straight to curved bar units up to a 4m complete circular mirrored bar.